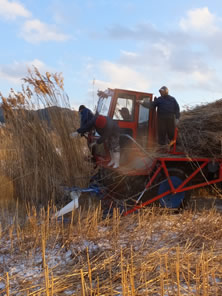 The Kitakami River flows from the upper mountain to the estuary where the water reed beds lies approximately 10 kilometers in distance. The river is brackish, being a mixture of fresh and saltwater, which makes the reed hard and vigorous, thus, making it a good quality source of thatching materials. The water reed has been gaining popularity not just for its environmental protection but aesthetic value as well. The reed provides habitat for various kinds of flora and fauna. It also helps in accumulating mud and purging away water, thereby, exhibiting an invaluable environmental role in protecting riverbanks against soil degradation. Moreover, the cutting of reed during winter attracts many photographers and poets for it provide good background for Yuletide season's greeting cards. Many people also visit the reed beds to listen to the exceptional sound produced by them. The reed sound was even included in the list as one of Japan's best sound ever produced. Aside from the said resource, Miscanthus spp. is also very visible especially on the mountains situated adjacent to the estuary.

  There are many different kinds of roofing materials that are used in roof thatching. Water reed is termed "yoshi" or "ashi" while miscanthus is "susuki". They may differ in their common names but once used in thatching, it is unanimously called "kaya".

  In Japan, there used to be many water reed beds before subjected to developmental purposes such as conversion to concrete dikes. Fortunately, Kitakami river reed beds have been well-preserved. Growth and development of new seedlings are enhanced when reed beds are properly maintained. Activities such as winter cutting and burning are conducted from December to March to produce good quality reeds (with straight stems).

 Kumagai Sangyo Co. Ltd. expresses its willingness to continue the utilization of the reed beds for a lifetime. The company's over-all performance is credited not only for its thatching works conducted all over Japan but to the availability of good quality reed as well. Every year, our company harvests water reeds that can supply around 20 traditional houses measuring 165 square meters each. The lack of manpower and declining demand hinder us from harvesting all reed beds. While companies are not fond of reed bed management business venture due to its non-profitability, our company takes pride in the fact that we are able to help in the preservation of Japan's cultural heritages with the use of this resource. Water reed beds may have been left behind by the modern age but our efforts to continuously seek its potential allow it to survive.